In my head I am Super Mom. I save the world by day as an eco crusader, and by night I provide my offsping with engaging, homemade games and crafts guaranteed to make her a genius. Oh Pinterest. You
bitch
elusive muse. You know that Pinterest was created by a bunch of coke-addicted Stepford wives to make us all feel bad about ourselves right? I actually didn't do too badly on the projects I chose to take on, but they absolutely did not deliver the hours of focused, delighted, dedication I was hoping for from Eden so that I can spend uninterrupted bliss catching up on television that may or may not include actual domestic engineers from various US cities. I did a search for Toddler Activities on Pinterest. Here's what inspired me, how I made it, and how she liked it.
The Project: PomPom Sorter
The Promise: Delight your child for hours as she quietly learns about colors, size and matching. Great for fine motor building.
The Proof: Dining room is now sporting a fuzzy circle motif.
This was pinned from an
Etsy
page. "Oh what a cute and simple idea!" I thought to myself. I decided to make my own version and bought the pom poms along with some other crafty doodads I had in mind for other projects at
Amazon
for about $10.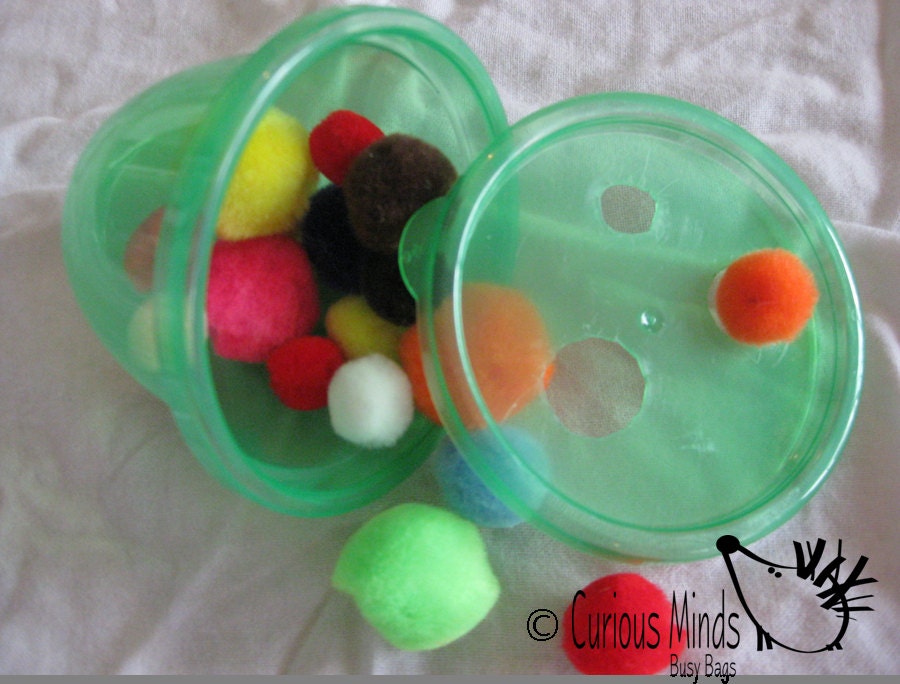 I took an empty container once filled with Eden's beloved "cheesy poofs" and dusted it out. I cut 3 sized holes in the top to correspond to the 3 pom pom sizes. I promised myself that I would go out to my craft storage and cover the container with some pretty paper. Yeah, that still hasn't happened. Finally I dumped in the pompoms and brought in the kid.
By design, the pompoms must be outside of the container in order for this craft to work. Oops. I opened the container (thereby showing Eden exactly what I did not want her to do) and poured them out into a neat pile on the table. It took about 4 seconds for my dining room to be littered with pompoms courtesy of the windshield wiper style swipe for scattering things on surfaces that she's so fond of. I sighed, gathered up a few pom poms and showed Eden how to put them into the holes. She loved it! It was all going pretty well for a bit, and then she decided to just put all poms regardless of size into the biggest hole. Duh! Of course that's what she would do. I'd be worried about her if she didn't. But I never considered that this would be less of a teaching tool and more like a cannon from which to launch pompoms into the air each time she takes the lid off.
We do still play with this one pretty regularly and she has fun putting the pompoms into the holes for a while before picking up the whole thing and giving it a nice shake. This activity renders about 5 minutes of engagement on average and she seems to like it pretty well.